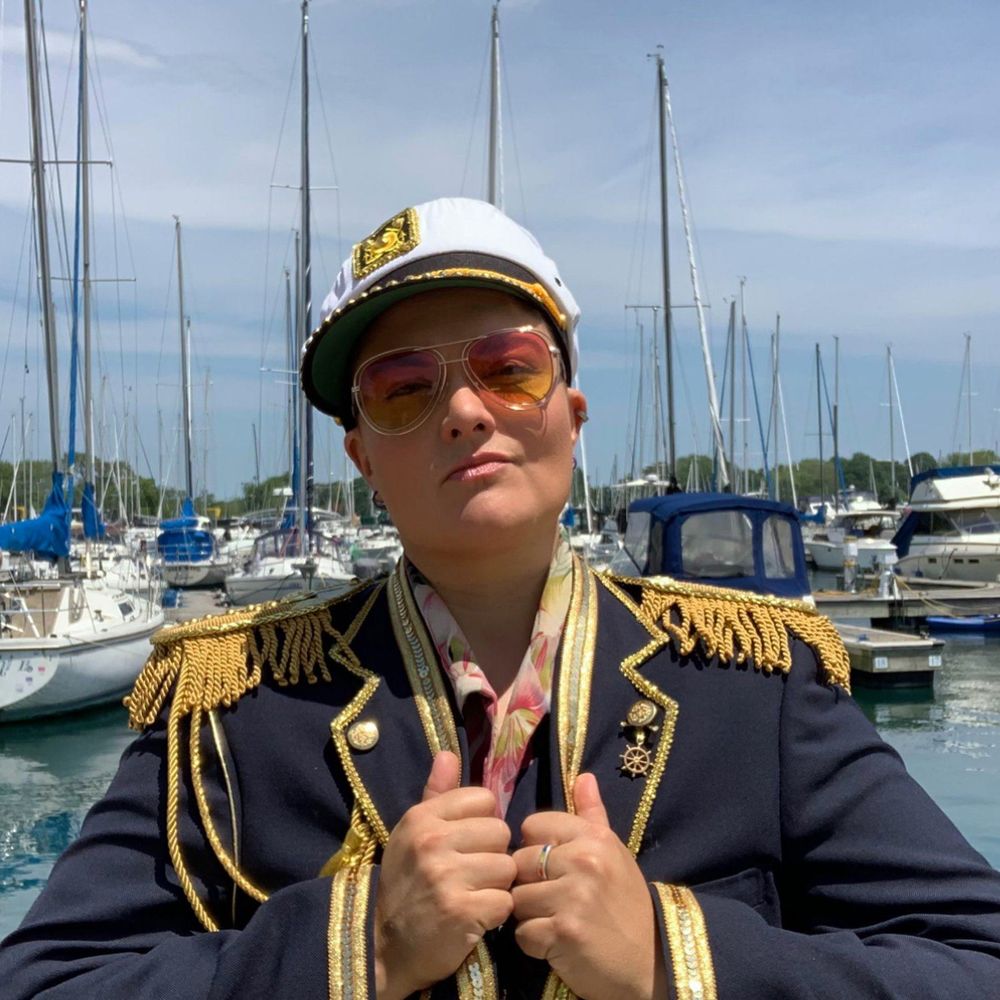 Captain K. GoodLove
Oh, Captain, my Captain!
With BIG vocals and a booty to match, Captain K. GoodLove is a dynamic, gender-bending burlesque singer, producer, and MC. After years of being in the burlesque scene as a producer and musician, The Captain has ventured out to perform featured acts of her own. Captain K. GoodLove's debut burlesque performance was in October 2018 at Lola Van Ella's Sexy Good Time Variety Hour in New Orleans. In May 2019, Captain K. GoodLove made her Show-Me Burlesque Festival debut. The Captain tore the house down with her sing-and-strip at the 3rd Annual Bourbontown Burlesque Festival in January 2020 and at the 11th Annual Show-Me Burlesque Festival in May 2022 where she got a standing ovation at the big finale show, Spectaculaire!
Captain K. GoodLove is a featured vocalist with The Van Ella Band, and can be found singing at the "Gentlemen's Club" events at the annual Shimmy Showdown and Show-Me Burlesque Festival.
***********
The Captain also launched a new passion project in 2019, GROOVESHIP:
Come sail away to a magical paradise where the funky-pop flows… GROOVESHIP is a queer-fronted immersive experience with a groovy soul. Created by singing sisters Kristen Goodman (Captain K. GoodLove) and Sarah Goodman (Coral Reefer), GROOVESHIP's powerful harmonies pack a tropical punch with soaring lead vocals that sweep you away on an island breeze. The rhythm is gonna getcha when you board this adventure cruise featuring tasty tunes from yacht rock classics like The Doobie Brothers, Fleetwood Mac, and Hall & Oates mixed with groovy hits from faves like Chaka Khan and Earth, Wind & Fire, plus a sea salt splash of current artists like Janelle Monae, Robyn, and Jessie Ware. GROOVESHIP travels to distant seas and other dimensions, bringing back sunshine and sweet sounds to party people across the land.
What launched in February 2019 as a party band has since evolved into an online party cruise on the world wide waves. The Goodman sisters continue to innovate and are shaping this project into their dreamshow: The GROOVESHIP EPIC - a fully immersive fusion of music, design, and aesthetics, taking the audience on a joyful and exciting ride through timeless dimensions to an inclusive world of radical self-love. Part musical, part concert, part nightclub, part water ride, The GROOVESHIP EPIC is an unforgettable journey of self-discovery, showcasing nostalgic classics from the past and forging new, more inclusive futures.
Pronouns: She/They
For booking, email captainkgoodlove@gmail.com.