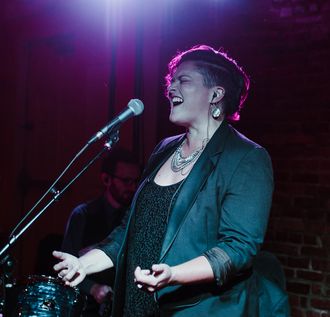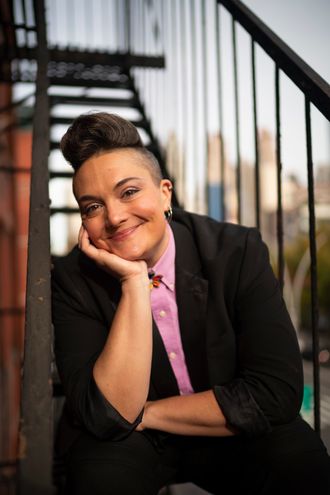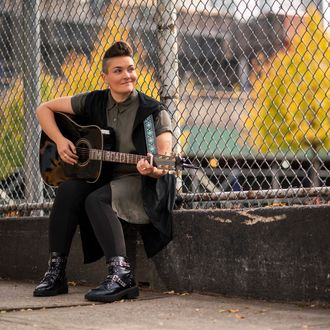 Kristen Goodman (she/they) is a New York City-based versatile musician, creative, and entertainment producer with a flair for immersive experiences. From intimate cabaret shows to huge spectacle events, Kristen leverages her decades of experience in production and performance to curate unforgettable entertainment experiences.
Kristen recently released her new album Live in St. Louis with her big band which was recorded in front of a devoted (and freezing!) audience at Sk8 Liborius Cathedral in St. Louis before the pandemic. Her debut EP Album, I'm Ready, is also available on all streaming platforms. She leads a womxn's folk rock tribute band called kg lang, and an acoustic folk band called Ghost Light. She's the co-creator of GROOVESHIP, a queer/female-fronted yacht rock party experience that launched in 2019. She is a frequent guest vocalist with The Van Ella Band, and has appeared in the Show-Me Burlesque Festival and other events from Van Ella Productions. Kristen's alter-ego, Captain K. Goodlove, can be found singing at burlesque events and festivals around the country. 
Kristen recently graduated with her Master's of Arts in Creative Media and Technology with a specialization in Writing and Design for Musical Theater from BerkleeNYC. She wrote a full-length musical with her collaborative partner, Eddie Bean, called Stevie and The Infinite Scroll that was featured as part of the inaugural class showcase of new musicals in June 2022.
With 20 years of restaurant experience and a Business Degree from the University of Missouri-St. Louis, Kristen combines her skills in marketing, entertainment, and hospitality to create truly memorable experiences for her patrons. A true believer in the importance of cultivating community through inclusive representation of different races, genders, sexual orientations, and body types, Kristen produces events and shows that aim to change hearts and minds through radical joy and self-love.  
In the Fall of 2020, Kristen embarked on an epic six-week solo road trip from St. Louis to California, camping and hiking through national parks and historic landmarks. Kristen is sharing her stories and songs from her travels via Patreon where she's presenting exclusive episodes of her original web series, Kristen's Musical Travelogue.
Kristen teaches voice lessons and beginning guitar and keys lessons to children and adults through her own private studio (virtually and in-person) and through Play Music NYC. Kristen is inspired by helping people gain confidence, improve their stage presence, and infuse the joy of music into their lives.
You can follow her journey on Instagram @KristenGoodmanSings, on Facebook.com/KristenGoodmanSings, or on Patreon.com/KristenGoodman.
Header photo by Ryan Nava.